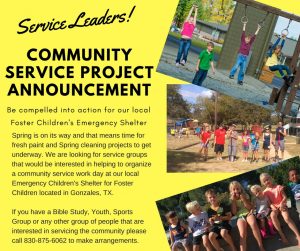 Thank you for being a part of FamilyLink Kids at Legacy Ranch. We cannot do it without your support.
FamilyLink Kids is a 501(c)(3) organization and all donations are tax deductible.  We currently have over 100 foster homes in the Central Texas area along with two Emergency Shelters and three Children's Homes.
In addition to financial donations, below is a list of items and services that we need donated to fulfill our vision and make this experience as rewarding as possible for the children and a link to our Foster Children's Wishlist located on Amazon.com that will ship automatically to the appropriate Children's Home upon purchase.
Foster Children Christmas Wishlist on Amazon
Needed items
Gift certificates to HEB, WAL-Mart, Target etc. for clothing and welcome care packages
Infant Car Seats and Child Booster Seats
Playscape
Sports Equipment
Basketball hoop
Baseball equipment
Badminton Set with net
Volleyballs
Soccer balls
Tennis equipment
Tubes for the river
Canoes
Life jackets of all sizes
Golf cart
Gardening supplies and plants
Lawnmower
Art Supplies
Picnic tables
Refrigerator
Stand alone freezer
Small kitchen appliances (microwaves, toasters, blenders, coffee pots, etc..) everything is needed
Canopy tents with screens
Bunk beds
Dressers
Countertops
Clothing of all sizes
Linens and towels
Matching bed sets – sheets and comforters
Wall art, pictures, & clocks
Couch sets
Dining room sets
Service for 15 is needed for dining, but everything is needed for the kitchen and dining areas
Fifteen-passenger van
Work truck and trailer
Needed services
Landscaping
Construction
Sports field development
Graphic Designer